Come February, love is the flavor of the season and Valentine's Day is the perfect opportunity to tell your special someone that they are treasured. People plan movie dates, shopping excursions, romantic dinners but the hero of our story, Vivek Sharma, decided to do something different. He and his wife, Sumangla Dixit, had been going through a stressful period due to ill health and that had really taken a toll on them.
Vivek had suffered from a severe back injury and was bed ridden for a long duration during which Sumangla put everything aside and ensured he had a quick recovery. February, the 4th happens to be her birthday and Vivek had made grand plans to make it a special day, this unfortunately couldn't see fruition due to his condition. In this period, his wife was looking after the house, balancing her work and giving as much time to him as possible. She even refused to attend her best friend's wedding as she didn't want to leave him alone.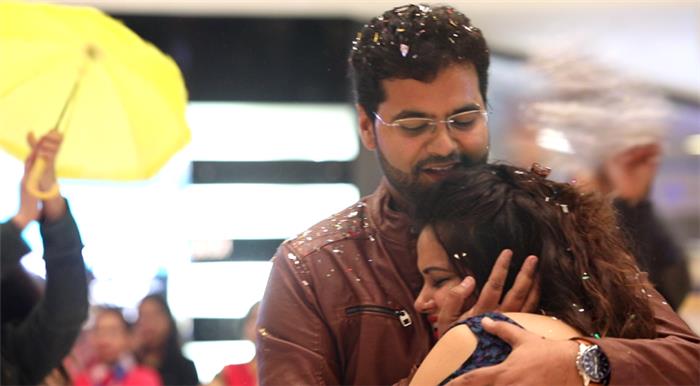 Valentine's Day— DLF Mall of India
Vivek realized that he had found a life partner who was so caring and giving and that not too many people are blessed to receive such a gift. He decided he would do something which Sumangla would cherish and look back on fondly. Idea of doing something special came to him, based on the songs which they both loved. Vivek approached DLF mall of India with his idea and the mall organized a surprise flash mob on Valentine's Day for his wife. The mall had just two days to organize the surprise.
Ishita Yashvi, Deputy General Manager, Marketing says "At DLF Mall of India we try to make our customer experience as personalized as possible, the idea is to make them feel welcome, at home, in this mall. We are always on the lookout to make the shopping experience as unique and interactive as possible, Vivek's wish for Valentine's Day struck a chord with us- like every other mall we had fun activities planned for our customers but this was a chance to really touch someone's life. We decided we would do everything possible to make this an occasion to remember." 
The DLF Mall of India team got cracking and got in touch with a troupe which organizes flash mobs and along with Vivek they selected songs which would fit the occasion. First up was "Sugar" by Maroon 5 which had special significance as it held memories of their very first road trip. Next was "Badtameez Dil" to add some pep and excitement and really have Vivek showcase his dance moves. A special dedication to Sumangla was "Marry You" by Bruno Mars, a recreation of Vivek's wedding proposal. 
"I wanted to do something unique for Sumangla, she's done so much for me in the past few days and I thought this would be a fitting tribute to make her feel special. I've even had to lie to her in order to attend practice sessions, all this while she's been thinking I'm stuck with some crucial work while this is what I've been up to! I really, really hope this goes off well and she's caught by surprise. I can't wait to see the look on her face" exclaims a very excited Vivek. He says "DLF Mall of India was an obvious choice to showcase this flash mob, it's a place we both love coming to and I would anyway have gotten her here for a nice dinner and some shopping on Valentine's Day.
The grandeur of the atrium is unmatched and makes it a perfect venue for such activities. Mall of India keeps having interesting and fun programs so I felt I should approach them this Valentine's Day." Well, on the special day, Sumangla sure was in for the best surprise any wife could have expected on Valentine's Day. The flash mob was a huge success and attracted all the mall patrons who had their feet tapping to the tunes and moving along to the beats. Sumangla's reactions were priceless, with her face glowing with joy, she was speechless when Vivek took her by the hand to be a part of the final sequence. 
This was a one of a kind activity which touched the hearts of all those present, going on to prove that true love sure does exist and isn't just a tale of books and movies. These real life love stories are what we live for and at DLF Mall of India we want to make each day just as special and positive for our customers. With this DLF MOI turned stage for a Hollywood drama coming to life. Look out for the final video on our social media pages and come, celebrate your special moments with us.
Courtesy by www.businesswire.com

PHDCCI Delegation Visits Nepal to Activate India Nepal

PHDCCI Delegation Visits Nepal to Activate India-Nepal To deepen the footprint of PHD Chamber of Commerce and Industry (PHDCCI), a delegation visited Nepal on June 12-14. The PHDCCI delegation was lead by Anil Khaitan, President – and among the other delegates were, Saurabh Sanyal, Secretary General; Ambassador K.V. Rajan, Convener - PHDCCI Ambassadors' Economic Forum & India-Nepal Centre.