Mandya is an excellent tourist spot, where many tourists from all over the world come to these places to enjoy God's beautiful creations and listed below are some attractive tourist places.
1.      Krishna Raja Sagara Dam and Brindavan Gardens
Located 19 kms North-West of Mysore is the KRS Dam and the ornamental terraced Brindavan Gardens. The swirling Musical Fountains dancing to the rhythm of soft music and colorful Lights transform this place into a fairy land in the evenings, attracting thousands of visitors.
2.      Srirangapatna
Srirangapatna is a land of history and culture. It is home to several monuments that tell eloquent tales of courage and honor. Hyder Ali and Tipu Sultan fought four wars with the British. In the Fourth Mysore war in 1799 Tipu Sultan was killed in the battle field.
3.      Ranganathittu Birds Sanctuary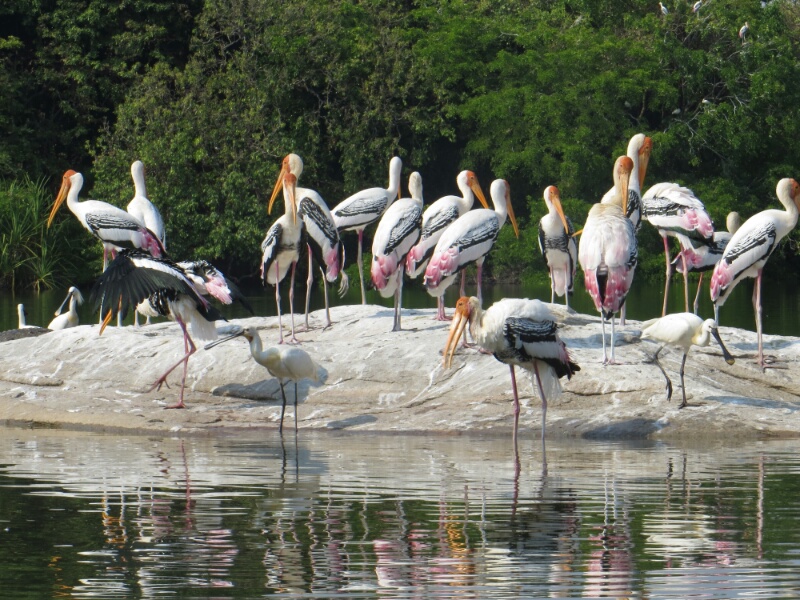 It is located four K.M.s from Srirangapatna and 18 K.M.s from Mysore is the Ranganathittu Bird Sanctuary that allows a close view of birds, both exotic and familiar and of crocodiles that resemble mud banks. Birds from as far away as Siberia make this their home.
4.      Kokkare Bellur
It is Situated 12 kilometers from Maddur towards Halagur, this is a unique bird sanctuary which has been internationally recognized as it co-exists with the village community.  The birds nest in the trees that are found in and around the village.
5.      Shivasamudram
Shivasamudram, where the river Kaveri cascades down in two picturesque waterfalls, is treating to watch.  Falling down 75 Mts. into a deep rocky gorge, these falls are at their best during the Monsoon months (July to November). Asia's first hydro-electric project was set up here in 1905. Power was evacuated from this power project to Kolar Gold Fields near Bangalore for running the Gold mines.