Jog Falls, Gerosoppa Falls is the 2nd highest waterfall in India located near Sagara taluk in the state of Karnataka. It is a segmented waterfall which, depending on rain and season, becomes a plunge waterfall. The falls are a major tourist attraction and is ranked 13th in the world by the waterfall database.
1.      Joga is a Kannada word meaning falls. Many Kannada speakers near Sahayadri Mountains such as in Yellapura region still use the word Joga to mean falls. The word Joga may be related to or a derivative of Kannada word javugu which means marsh (wet).
2.      The Tourism Department has built steps from the viewpoint to the bottom of the hill where the waterfall can be seen at the opposite side. There are approximately 1400 steps built to reach the bottom of the hill.
3.      Associated with the waterfall is the nearby Linganmakki Dam across River Sharavathi. The power station has been operational since 1948 and is of 120 MW capacities, one of the largest hydroelectric stations in India at that time and a small source of electric power for Karnataka now. The power station was previously named Krishna Rajendra hydro-electric project, after the King of Mysore at that time.
4.      Before the onset of monsoon season, when there is not much water in the Linganmakki dam, the Jog Falls are a pair of thin streams of water trickling down the cliff, as the water collected in the dam is exclusively for generation of electricity; during monsoons local rain water is the source of water to the falls.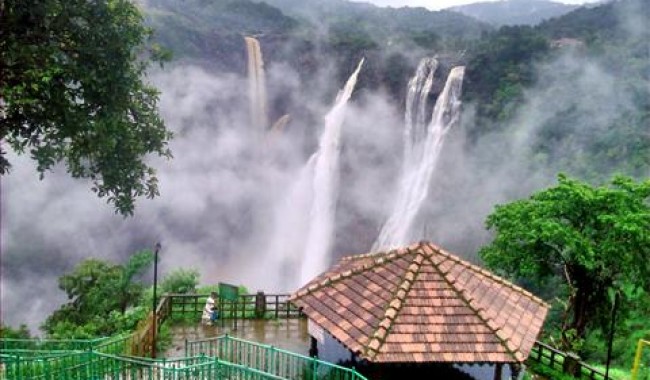 5.      Jog Falls is created by the Sharavathi River dropping 253 m (830 ft), making it the second-highest plunge waterfall in India after the Nokhalikai falls with a drop of 335 m (1100 ft) in Meghalaya.